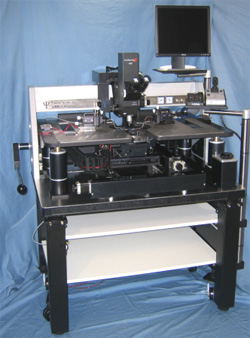 WAFER CHUCK PULL-OUT FEATURE:
ALLOWING CONVENIENTAND SAFE WAFER EXCHANGE WITH 12 INCHES OF UNOBSTRUCTED ACCESS. INCLUDING A ERGONOMIC HANDLE DESIGN WITH REPEATABLE MECHANICAL TRIGGER RELEASE/LOCK AND A HEAVY DUTY PRECISION BEARING GUIDE SYSTEM.
PLATEN TWO POSITION FAST Z ,GAS SHOCK ASSISTED
MECHANICAL PLATEN LIFT SYSTEM:
MICROSCOPE LIFT DELAY WITH ADJUSTABLE OFFSET. AVOIDING MICROSCOPE OBJECTIVE INTERFERENCE WITH PROBE CARDS AND PROBES DURING THELOADING AND UNLOADING Of WAFERS.
PLATEN COOLING
AIR COOLED TO REDUCE PROBE DRIFT CAUSED BY HIGH TEMPERATURE TESTING
INTEGRATED VIBRATION ISOLATION TABLE
PLATFORM WITH ADJUSTABLE CASTERS AND JOY STICK
INTELLIGENT MOTOR
310mm X-Y STAGE DRIVE WITH SUB MICRON RESOLUTION.