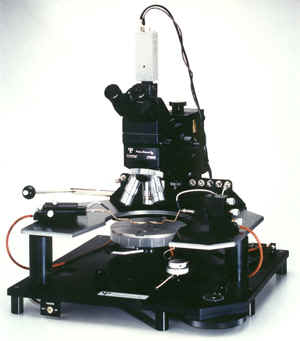 PSI 410 Manual Analytical Probe Station
The PSI 410 Manual Analytical Probe Station has all of the basic features of the PSI 400 with the addition of a 12-position ratcheting Platen and Microscope Lift.
The PUSH/PULL Rack and Pinion X-Y Stage controls, featuring vacuum position locking, are easily operated with one hand. Wafer capability of 6" and 8", as well as small samples, are easily and rapidly loaded and unloaded with the system's open architecture. The stage movement may be equipped with a 1 inch x 1 inch stage micrometer movement for precision DUT positioning. The stage also incorporates a convenient Theta Control (± 15o) for precision alignment.
The platen will accommodate 10 or more precision vacuum or magnetic manipulators. The platen is machined from magnetic stainless steel plate, while most of the balance of the station is constructed from black anodized aluminum. The platen incorporates a FAST "Z" LIFT system that features an adjustable microscope lift delay.
The PSI 400 Series of analytical probe stations were designed to provide performance normally found in products twice the price. These probe stations are ideally suited for Failure Analysis, Engineering Chip Design Characterization, Process Control Analysis, CV / IV, Low Current/Low Noise, Microwave and Biomedical/Biophysics Probing Applications.
All accessories for this station are available online -- see the links below to purchase.
Accessory Selections