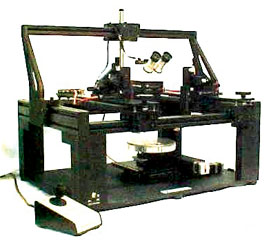 PSI 1920 HM General Purpose TDR Probe Station
The PSI 1920 ™ is the essence of simplicity and affordability yet includes functions normally found on machines priced significantly higher. It was created to satisfy the versatility requirements for populated Time Domain Return testing, and DUTs whose goemetrics are too small for hand guided probes yet capable of contacting structures viewed with stereo microscopes.

The 32 " x 24 " baseplate provides the structure which accepts two large platens positionable in the 'X ' axis, and containing individual 'Z ' controls. Further, the microscope glides over the fixture mounting area and then locks into position.

A lead screw driven stage option provides the additional versatility for work height accuracy and precision required by populated PCBs and difficult areas to be tested on both front side and back side board locations.

The platens will each support up to 8 manipulators depending upon type and travel characteristics. Manipulators and probe holders are available to accomplish a variety of probing tasks. Processes commonly requiring both stereo and standard oscilloscopes to small geometry and PicoProbe applications.

Call Probing Solutions, Inc., at (775) 246-0999 for a quotation on the basic probe station. All accessories for this station are available online -- see the links below to purchase.
Accessory Selections