Model P7 Series Probe Holders

Made from 300 series stainless steel, the P7 probe holders accept all model 407 replaceable probe tips, and are secured with a set screw. When used with the P7 Tool Holder Adapter Arm; "Z" position adjustments are easy, and can accommodate a variety fixtures and probe card holders. Designed for both high temperature (-65 to 300°C) and high electrical isolation measurements.

All probe holders are wired with 39 inches (1 Meter) cable. Shield/guard is terminated within 0.2 inch (5mm) of the tip. A shield wired alligator clip is provided for ground applications on all coaxial and triaxial probe holders. Materials used are RoHS compliant.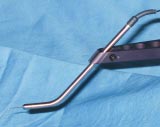 Single Wire Specifications:
• 22ga. silver plated stranded copper wire with black PTFE insulation
• Standard assembly resistance > 0.2 ohms @ 70 degree F
• BNC connector, 2 lug male, 50 ohm, 500VDC max.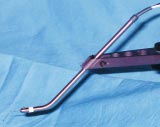 Coaxial Specifications:
• Coaxial Cable RG 178/B/U, 50 ohm, High Temp. TFE insulation, MIL-C-17
• Standard assembly isolation, signal to shield: > 5 Teraohms @ 500 VDC max.
• Ceramic insulators
• BNC connector, 2 lug male, 50 ohm, 500VDC max.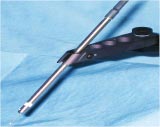 Triaxial Specifications:
• Triaxial Cable <18pf/foot capacitance, Ultra-Low Triboelectric Effect
• Standard assembly isolation, signal to guard: > 10 Teraohms @ 600 VDC max
• Ceramic insulators
• Triaxial connector, 3 lug male, 50 ohm, 500VDC max.

Ready to Order?

You can order by emailing the factory at sales@probingsolutions.com or call 775 246-0999 Monday through Friday between the hours of 8:00 AM and 5:00 PM, Pacific Standard Time.
To begin, you will need to know the type of holder you require. Single wire for simple DC measurements, coaxial or Triaxial for shielded or guarded/shielded measurements.
If purchasing for use with a Probing Solutions probe station and manipulator with the chuck below the platen, then the standard part number shown is proper for your setup. Just be sure to select item 4 for the proper termination.
If configuring for other probing configurations then indicate the proper dimensions required in items 1 through 3 plus item 4 for termination.
All configurations carry the same price for your convenience.

Note: Adaptations to other manufacturer's manipulators available. Please contact the factory for assistance.
---


Copyright 2004 by Probing Solutions, Inc.
Web design by Global Studio, an advertising agency.
Please send web site inquiries to info@globalstudio.com