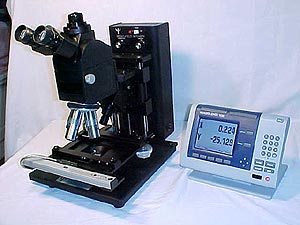 PSI 362 PMI
The 362 PMI is a manual station like the 342 except that the 362 has a digital X-Y system for easy re-location of the defect on the mask. The digital readout allows you to return to the same location without a lot of searching.
Technical Specifications:
Mask reticle sizes: 4" (101.6mm) to 7" (177.8 mm) with or without pellicle
4 illumination systems combined for 8 illumination modes
Standard configuration: 10X eyepieces, 2X, 10X objectives
Recommended options: 50X objective and mask paddle
Cleanroom Compatible
Dimensions: W 7" (178mm) X D 10" (254mm) X H 5" (127mm)
Dimensions: W 20" (508mm) X D 20" (508mm) X H 18" (457.2mm)
To order this product, call Probing Solutions, Inc., at (775) 246-0999.
Still have questions? Read the frequently asked questions.
Accessories Available: